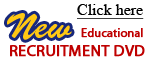 Today if you plan to play college athletics it is absolutely necessary to send out video of your game performance. As a parent of an athlete and a player you must be proactive.
Let our experienced staff; shoot, edit and duplicate highlights DVDs for you to send to college coaches. Whether your sport is field hockey, basketball, football, or soccer, we can guide you through the video process to help you get recruited. If you are a football player, look for our educational DVD; How to Get Recruited to Play College Football, available for just $39.99.
Start the process. Call us today!
Current and past individuals and team clients:
A.L. Johnson Regional
Bernards
Chatham
Delbarton
Kent Place
Florham Park (Pop Warner)
Hanover Park
Holy Family Grammar School
The Hun School

Livingston
Mendham
Montville
Morristown
Morristown Beard
Oak Knoll School
Parsippany Hills
Pennington
The Pingry School

Piscataway High School
Piscataway (Pop Warner)
Pope John IV
Princeton High School
Ridge High School
Seton Hall Prep
Villa Walsh Academy
Warren Twp. Travel Basketball
Watchung Hills (Pop Warner)
West Essex