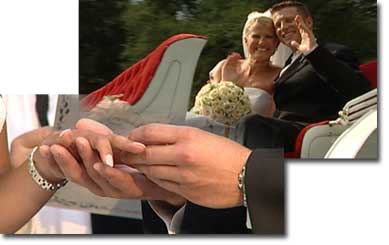 There are no second chances to capture the tears and laughter that make this day uniquely yours. Why take a chance with any other company?
Like many wedding video companies today, we offer slow motion, black and white, and other digital effects. What makes Garden State Video different, is the use and placement of these effects, the timing of the music and the use of transitions that will that will take your breath away.
Itís the subtleties of our editing along with our videographerís knowledge of composition, lighting, and technical skills that allowed Garden State Video to stay a step ahead of our competition for more than ten years.
Why choose Garden State Video?
Unobtrusive style at your event
Experienced Videographers that come to your event formally dressed
Attention to detail in shooting and editing
Artistry which includes composition and use of effects in editing