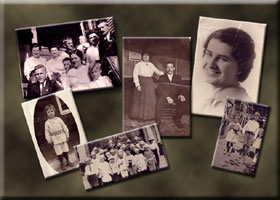 We produce your personal
family documentary
You just finished tossing around the baseball with your son and on the way inside he asks you, "Dad, I have to do a report on our family history, can you tell me about grandma and grandpa?" You've been waiting for this since he was born, and now's your chance to share your lineage with the next generation. It's a good thing you were preparedů
Living History is a professionally shot and edited family history video production, complete with old family photographs or movies accompanied by music and narrated by a senior family member. Can you imagine seeing and hearing your children's Great-Grandmother tell them the story of her life and about your family's past? Feel the warmth of her personality as she reveals insights into her day to day life and family traditions.
Unfortunately our loved ones won't be around forever but with LIVING HISTORY our family's story can remain and be passed down from generation to generation. Garden State Video North can help you preserve your heritage.
You cannot find a more precious or valuable gift.
Contact Garden State Video North today before your past is history!