We offer several types of sports video productions and editing.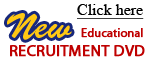 Our passion and experience show in our NATIONAL AWARD WINNING sports highlight video for teams, and individual sports videos for those athletes looking to GET RECRUITED to play college athletics. Our staff is filled with video professionals that know sports. We know your sport, we know video production. This combination can't be beat.
Whether it's a demo tape for college coaches, full game multi-camera coverage, or a team's end-of-the-year music highlight video - we deliver with impact.
Garden State Video North can shoot and edit videos to send to college coaches to show off your skills to potentially EARN A COLLEGE SCHOLARSHIP !